Lets talk about Felice Hodges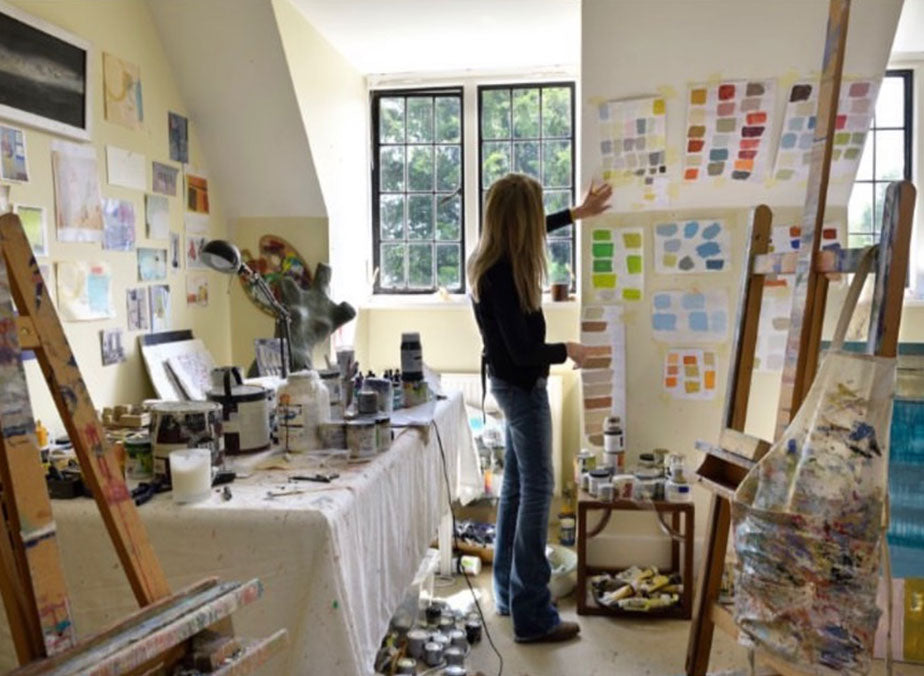 It was in the very early days of gallery life that I came across Felice Hodges on Instagram. I loved her work - the melodic use of colour, its bravery and no fucks given to any sort of convention. I felt Felice painted completely intuitively, and she still does.
I visited her in her Devon studio after a four hour drive (back when I did a lot of studio visits!), up many flights of stairs and through rooms in a very beautiful house. My hungry eyes devoured everything. Here was an artist living and breathing her craft in every corner of her life.
The studio at the top of the house was an absolute haven of light, colour and space, and I had a brilliant time choosing a selection of work for that first solo show with Gallery At Home.
I took a chance on a work in progress, still wet and pinned to her easel, I kept returning to it and asked if it could be included in the show. It was big, 100 x 180 cm, and Felice agreed but there wasn't time to frame it, so I took it as it was.
It was the very first painting I sold of Felice's. Called Nile Green, as a very large, unframed paperwork, in mixed media on heavy, Fabriano paper, I had bulldog-clipped it to the gallery wall. It was selling for £4,000 and collectors were instantly drawn to it (it goes to show that when something resonates and calls to you, go with your gut!). I arranged framing for them, and having visited that collector's home recently, it sits proudly in their dining space, stealing the show.
What I love and admire about Felice is that she curates what she loves, frequently showing old and new works together, reframing the narrative from studio pieces that may be like unfinished songs, nothing has a timeline, it is all valued. Felice recreates and re-curates her bodies of work. Pulling things in that sing together like musical notes. Felice is also synaesthetic and experiences things through multiple senses - feeling colours as sounds.
Do read this lovely excerpt from an essay by her friend and colleague Robert Upstone of Tate Britain…
'Trying to describe Felice Hodges's wonderful paintings with accuracy can be difficult because - like the truest art - they transcend the harsh rigidities and conformities of language. She makes paintings that may first appear wholly abstract and gestural in expression but, on continued looking, are generally rooted in a specific place or moment which their titles and forms gradually reveal. They hover between abstraction and some mysterious, transformed poetic reality that the viewer becomes immediately caught up in and a part of, and the viewer becomes part of an interaction or dialogue with the picture itself.
The evocative mood and atmosphere of these paintings is often suggested by subtle, ravishing harmonies of colour. Tones and colours are laid next to, or over each other, to create highly original and unexpected chromatic combinations which are also intensely beautiful. These have a direct effect on the viewer's emotions. Felice trained as a musician and continues her musical interests and in this they are reminiscent of the tone poems of Claude Debussy and Maurice Ravel. Such music is ethereal and free flowing, intangible, yet contained within a highly effective structure. Felice's paintings have a similar enigmatic character.
The surface of these canvases is highly, richly complex, also like a musical composition. Felice contrasts the different textures and effects that derive from working paint with stiff and soft brushwork, bold gestures set against more contained ones. She combines oils and acrylics with other media, and sometimes the paintings contain collaged elements.' - Robert Upstone
And from Ian Massey's catalogue extract...
"While much of Hodges' work is comprised of an essentially abstract vocabulary of painterly gestures, loosely drawn shapes and signs, there is often an interplay between figuration and abstraction that ranges from the allusive to the explicit. Her motifs are frequently those of domestic objects: chairs and various types of vessels; vases, jugs, glasses. They serve both as compositional anchor points, and also metaphorically, grounding the work – and hence the artist – in both past and present." - Ian Massey 
It's always wonderful to read essays by respected art historians and writers, it feels respectful and validating, and informs us of so much. But mostly, in my experience of running a gallery, although the public love to gather information about the artist upon visiting an exhibition, it really is down to the work. We respond to what we see, and how it makes us feel, how we connect and covet, the visual joy a painting can bring us. It is never about the words. It's how it makes our heart feel.
We are very fortunate to have a beautiful collection of exclusive paperworks, mounted and unframed, by Felice in our new Paperworks gallery. Selling at an accessible price, this could be a fantastic opportunity to own a very desirable artwork by a highly collectable artist.